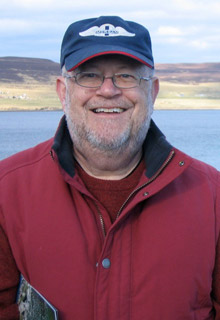 William W. Starr was executive director of the Georgia Center for the Book from 2003 – 2013. Before that, he was for more than 30 years a prize-winning writer and editor for United Press International and a daily newspaper, The State, in Columbia, SC. He is the author of three books, an co-editor of others and has contributed essays and reviews to a number of national publications.
A native of Atlanta, he now lives in Connecticut with his wife Michele. He lived for three years in New Hampshire and was a humor columnist for The Keene Sentinel. He is now working on a pair of new books, including a memoir. In 2006, he helped create and oversee the Decatur Book Festival in Atlanta, one of the nation's largest independent book festivals, and co-founded the South Carolina Book Festival in Columbia in 1996. He joined the planning committee for the popular Brattleboro (VT) Literary Festival in 2013.
Starr is associate editor of "The South Carolina Encyclopedia," has contributed prefaces to several books, and written essays and reviews for many publications, among them The Washington Post, The Los Angeles Times and Newsweek. He has spoken at book events including the Virginia Festival of the Book, the SC Book Festival, the Canton Book Festival and the Decatur Book Festival, and he has appeared on the faculty at writing workshops around the Southeast. He also has been an adjunct professor of journalism at the University of South Carolina.
In addition to a number of journalism awards for his newspaper writing, Starr received a lifetime achievement award from the South Carolina Humanities Committee and was honored with the DeKalb Library as a recipient of a Georgia Governor's Award in the Humanities. He was given the Order of the Palmetto signed by the Governor of South Carolina in 2003 and was recognized by the state legislature for his writing about the arts in South Carolina that same year.
His three books are:
"Whisky, Kilts, and the Loch Ness Monster: Traveling through Scotland with Boswell and Johnson" (2010), his lively and light-hearted account of a 2007 trip through Scotland's Highlands and Islands following the path of James Boswell and Samuel Johnson's memorable 1773 journey;
"A Guide to South Carolina Beaches" (2001), a witty and informed look at the state's beaches, from hectic Myrtle Beach to idyllic Hunting Island;
"Southern Writers" (1996), with photographs by David Spielman, a fascinating glimpse into the lives of 72 Southern authors, from Eudora Welty to Ernest J. Gaines, from William Styron to Lee Smith, featuring knowledgeable, concise commentaries by the author.